Hydrochloric Acid Chemical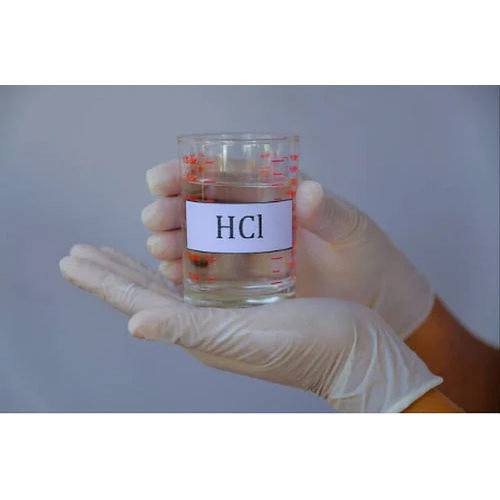 Hydrochloric Acid Chemical
Price And Quantity
Kilograms/Kilograms

10000
Kilograms/Kilograms

2 INR
Product Specifications
Industrial Grade

Hydrochloric Acid
Product Description
A powerful chemical that is widely used in many different sectors, the hydrochloric acid chemical is recognized for its vast variety of uses. Hydrochloric acid, which has a unique strong smell, is frequently used in processes including manufacturing, metal cleaning, pH adjustment, and water acidification. For accurate chemical analysis, laboratories also use this hydrochloric acid chemical. A hydrochloric acid is a vital tool in many industrial, scientific, and commercial domains due to its corrosive qualities and amazing capacity to disintegrate a broad variety of substances.
Features of Hydrochloric Acid Chemical:
Due to its special qualities, the hydrochloric acid chemical is extensively used in many different sectors.

One distinguishing feature is its powerful and forceful nature, which is frequently identified by its distinctive fragrance.

This adaptable acid is essential to industrial operations such as water acidification, pH control, and metal cleaning.

The hydrochloric acid chemical is also used in labs for exact chemical tests and analysis.

This chemical's corrosive properties make it useful for removing and dissolving certain substances

Due to its excellent solubility, it can efficiently dissolve a variety of substances and materials.

Additionally, the chemical hydrochloric acid is a useful tool for changing and controlling pH values in a variety of applications.
Specifications of Hydrochloric Acid Chemical:
Chemical formula: HCl

Physical state: Clear, colorless liquid

Concentration: Available in various concentrations, typically ranging from 5% to 37%

Odor: Strong, pungent smell

pH level: Highly acidic, typically below 1

Boiling point: Approximately 83 degrees Celsius

Density: Varies depending on concentration, typically between 1.1 to 1.2 g/cm

Corrosiveness: Highly corrosive to metals, requiring caution during handling and storage

Solubility: Highly soluble in water

Reactivity: Exhibits strong reactivity with various substances, including metals and bases
FAQs of Hydrochloric Acid Chemical:
1. What does hydrochloric acid smell like?
Hydrochloric acid has a strong, pungent smell that is often described as acrid and sharp, resembling the scent of a strong industrial cleaner.
2. Is hydrochloric acid dangerous to handle?
Yes, hydrochloric acid is considered dangerous to handle due to its corrosive nature. It can cause severe burns and irritate the skin, eyes, and respiratory system if not handled with proper safety measures.
3. Can hydrochloric acid be diluted?
Yes, hydrochloric acid can be diluted by adding water to reduce its concentration and make it less corrosive, but caution should be exercised as the process should be done carefully and following proper guidelines.
Trade Information
Cash Advance (CA) Cash in Advance (CID) Cheque

7 Days
All India South India Central India West India North India East India Gujarat Karnataka Kerala Lakshadweep Mizoram Meghalaya Manipur Andhra Pradesh Bihar Chandigarh Daman and Diu Goa Jharkhand Odisha Punjab Assam Delhi Dadra and Nagar Haveli Andaman and Nicobar Islands Arunachal Pradesh Chhattisgarh Haryana Himachal Pradesh Jammu and Kashmir Madhya Pradesh Maharashtra Nagaland Rajasthan Sikkim Tamil Nadu Telangana Tripura Pondicherry Uttar Pradesh Uttarakhand West Bengal

ISO 9001 : 2015 certified and Msme Certified.