Coagulation Liquid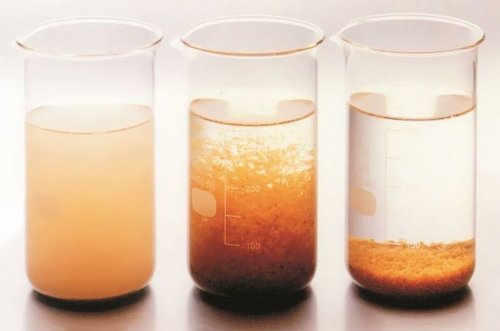 Coagulation Liquid
Price And Quantity
Kilograms/Kilograms

115 INR
Product Specifications
Product Description
We provide industrial grade Coagulation Liquid for effluent wastewater water treatment processes. It is ideal to be used in water clarification process, solids removal, lime softening, solids dewatering and other works to provide the best results. It is a cost-effective and pure liquid available in highly effective form to provide instant results.
Coagulation Liquid Properties:
The Coagulation Liquid has a smooth feel and is a viscous, translucent fluid.
It has a distinctive smell that is evocative of a light chemical aroma.
The pH of the liquid is somewhat acidic, which creates a favorable environment for coagulation activities.
It demonstrates a remarkable capacity to encourage the production of clots, helping to reduce bleeding.
The Coagulation Liquid creates a thin layer that clings firmly to the skin when applied to wounds, acting as a barrier for protection.
When exposed to air, it dries quite rapidly, lowering the possibility of contamination.
The majority of people have no negative responses or sensitivities to it, nor does it irritate their skin.
Coagulation Liquid Features:
A carefully prepared solution known as coagulation liquid is used to speed up the clotting process in biological samples and help separate the various blood components.
It has anticoagulant substances that stop the blood from clotting, preserving the sample's liquid form for additional examination and testing.
The liquid's transparency and mild viscosity make it simple to mix and distribute evenly across the sample container.
In order to protect the integrity of the sample, it is carefully balanced to maintain the physiological pH level, simulating the settings seen in the human body.
Calcium ions, which are common in coagulation liquid and are necessary for the activation of the coagulation cascade and, when necessary, the production of blood clots, are present.
FAQs:
1. How does coagulation liquid prevent blood from clotting?
Ans: Coagulation liquid contains anticoagulant agents that inhibit the clotting process by interfering with the activation of clotting factors, ensuring the blood remains in a liquid state for further analysis and testing.
2. What is the consistency of coagulation liquid?
Ans: Coagulation liquid typically has a slightly viscous consistency, similar to that of a thin syrup, which allows for easy mixing and uniform distribution within the sample container.
3. Are there any stabilizing agents in coagulation liquid?
Ans: Yes, coagulation liquid may contain stabilizing agents that help prevent the degradation of labile factors involved in the clotting process, ensuring accurate and reliable test results.
4. Is coagulation liquid sterile?
Ans: Yes, coagulation liquid is sterile, meaning it is free from microorganisms and contaminants, reducing the risk of introducing external factors that could interfere with the coagulation process or compromise the quality of the sample.
Trade Information
Vadodara

Cash Advance (CA) Cash in Advance (CID) Cheque
All India Odisha Tamil Nadu Andhra Pradesh Gujarat Daman and Diu North India Pondicherry Nagaland Manipur Telangana Lakshadweep Uttarakhand Sikkim Uttar Pradesh Dadra and Nagar Haveli Goa Himachal Pradesh South India Mizoram Jharkhand Rajasthan Chandigarh Chhattisgarh Haryana West India Assam Madhya Pradesh Karnataka Tripura Arunachal Pradesh Kerala Jammu and Kashmir Central India West Bengal Bihar Andaman and Nicobar Islands East India Delhi Maharashtra Meghalaya Punjab

ISO 9001 : 2015 certified and Msme Certified.