Aquasol PH Paper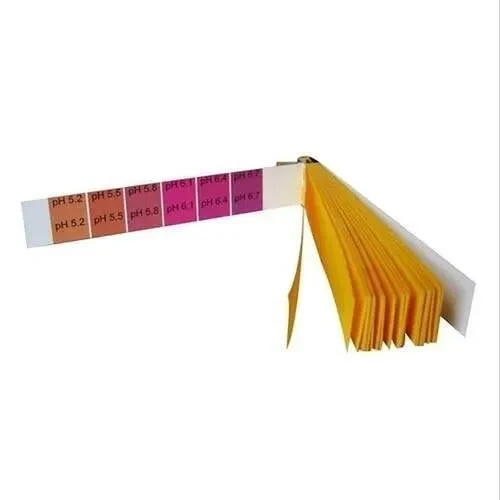 Aquasol PH Paper
Price And Quantity
Product Specifications
Technical

Industrial Lab Chemicals
Product Description
A convenient and adaptable instrument for determining the acidity or alkalinity of different liquids is Aquasol pH Paper. It is made up of a strip of paper infused with pH-sensitive compounds, which alter color in response to the pH of the material being tested. The pH value may be ascertained by simply dipping the paper into a liquid and comparing the color change to a given color chart. Common uses for Aquasol PH Paper include scientific research facilities, educational institutions, and even commonplace tasks like assessing the efficacy of skincare products or water supplies.
Features of Aquasol PH Paper:
Aquasol pH Paper is simple to use and offers accurate and speedy pH readings.
It is easy to handle and dip into solutions because it is packaged in handy strips.
High-quality pH-sensitive chemicals are incorporated into the paper to cause clear and noticeable color shifts.
The wide pH range of Aquasol pH Paper enables testing at varying degrees of acidity and alkalinity.
The pH paper comes with a color chart that makes it simple and accurate to read pH values.
The pH paper is appropriate for usage in academic settings, industrial settings, and general purposes.
It provides value for money and is a cost-effective option for pH testing.
Specifications of Aquasol PH Paper:
pH range: 1-14
Color chart included: Yes
Sensitivity: Accurate to within 0.5 pH units
Shelf life: 2 years
Compatibility: Suitable for testing liquids and aqueous solutions
Storage: Store in a cool, dry place away from direct sunlight
Usage: Dip the strip into the solution, wait a few seconds, and compare the color change to the provided color chart to determine the pH value.
FAQs of Aquasol PH Paper:
1. What is the pH range that Aquasol pH Paper can detect?
Ans: Aquasol pH Paper can detect a wide pH range from 1 to 14, allowing for measurements across a broad spectrum of acidity and alkalinity.
2. How accurate is Aquasol pH Paper in measuring pH?
Ans: Aquasol pH Paper provides a reliable level of accuracy, typically accurate to within 0.5 pH units, ensuring precise measurements for various applications and testing needs.
3. Are there any specific disposal instructions for used Aquasol pH Paper strips?
Ans: Used Aquasol pH Paper strips can be safely disposed of in regular household waste, as they do not pose any significant environmental or health hazards. However, it is always recommended to check local regulations and guidelines for proper waste disposal in your area.
Trade Information
2 Days

Contact us for information regarding our sample policy
Box

Asia Australia Central America North America South America Eastern Europe Western Europe Middle East Africa
All India South India Central India West India North India East India Gujarat Karnataka Kerala Lakshadweep Mizoram Meghalaya Manipur Andhra Pradesh Bihar Chandigarh Daman and Diu Goa Jharkhand Odisha Punjab Assam Delhi Dadra and Nagar Haveli Andaman and Nicobar Islands Arunachal Pradesh Chhattisgarh Haryana Himachal Pradesh Jammu and Kashmir Madhya Pradesh Maharashtra Nagaland Rajasthan Sikkim Tamil Nadu Telangana Tripura Pondicherry Uttar Pradesh Uttarakhand West Bengal

ISO 9001 : 2015 certified and Msme Certified